This time last year Ruth was busy inventing Creme Egg Chelsea buns
and i was casually chatting to Eric Lanlard on a google hangout about my creme egg and chocolate tart… (10 seconds of fame – if you want to relive the highlights click here)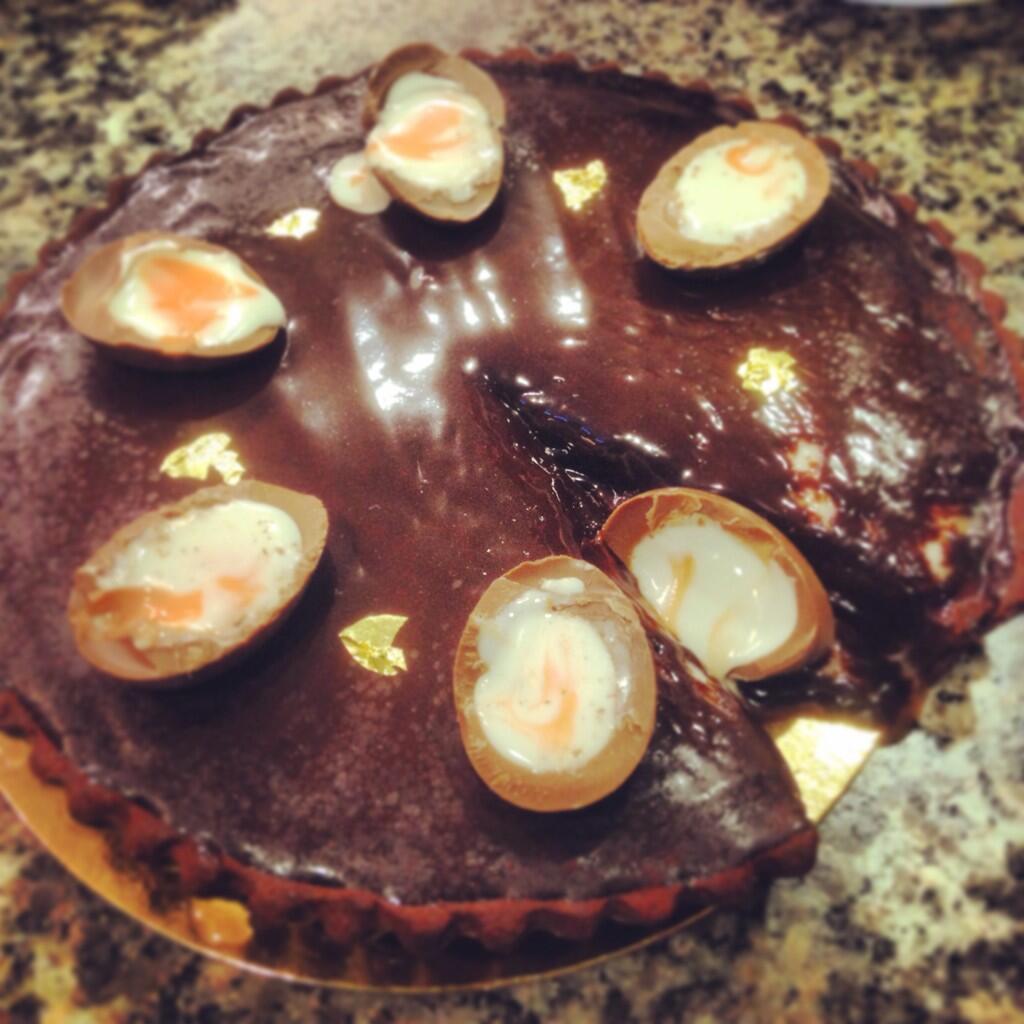 As Easter is fast approaching, i felt it was about time to get the inventors cap on yet again and try and create something else. After contemplating all the little traditions we have at Easter, i felt like the creme egg is still the product with the most prospects so i decided to continue the theme. I thought about donuts with a creme egg centre, mince pies filled with creme egg but eventually decided upon the creme egg millionaire shortbread. Something quite simple and replicable by all.
I got very excited when i found this recipe on the daily mail for creating your own creme egg filling – it is very easy and also inexpensive compared to buying multiple packets of the real deal and scooping out the centre.
To begin i baked a traditional shortbread (i used the recipe on here). While it was in the oven i created the creme egg filling. I followed the recipe exactly – it is quite a lot stiffer than your traditional creme egg fondant but this is required for the nature of the bake. The filling is made using liquid glucose which i managed to find in the baking section of tescos, icing sugar, butter, vanilla essence and water. After tasting it i decided to add more vanilla as this is what makes the iconic taste and i didn't feel it was coming through enough.
I coloured half the filling yellow and when the shortbread was baked and cooled, but the white half on top followed by the yellow half.
I then finished it off with a layer of chocolate ganache (half cream half chocolate). I used half cadburys and half dark chocolate as i knew that my family would prefer the topping to be slightly less sweet but it can be topped with whatever ratio you like or even with plain melted chocolate.
After tasting i decided that next time i would do a thinner layer of shortbread as the ratio of biscuit to topping felt a little out of kilter however, it was very tasty and definitely a bit different!